About Us
Honeymoon Restaurant is a Chinese takeaway in Paignton. Why don't you try our Black Pepper Sauce or Satay Sauce?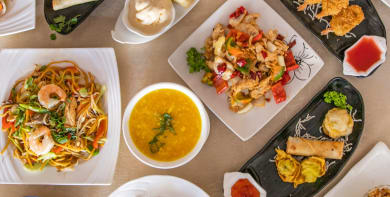 Reviews
298 reviews
Nicola
"Great food, very tasty, would definitely order from here again. About 10 mins late but we were kept updated by Just Eat told so it really wasn't an issue."
21/05/2021
Steve
"Well informed of delivery times, and as early it was a pleasant surprise. Food although more expensive than others it was of very good quality and i can highly recommend them. First Class"
11/05/2021
Ellen
"Lush food, nice delivery driver. Cannot go wrong!"
08/05/2021
Vivien
"Always delicious food"
07/05/2021
Menu
Mixed Hors d'Oeuvres for 2 People
£8.00
Vegetarian Spring Rolls (8)
Suitable for vegetarians
£2.50
Onion Rings
Suitable for vegetarians
£2.20
Curry Triangles (Samosa) (8)
£2.20
Deep Fried Crab Claws (6)
£3.60
Chicken Satay on Skewers (4)
£4.90
Honey Barbecued Spare Ribs
£5.80
Barbecued Spare Ribs in Sauce
£5.80
Spare Ribs with Salt, Pepper & Garlic
£5.80
Squid with Salt, Pepper & Garlic
£5.50
Chicken Wings with Salt, Pepper & Garlic
£4.60
Crispy Peking Duck Quarter
Served with pancakes, spring onions, cucumber & hoi sin sauce
£9.50
Crispy Peking Duck Half
Served with pancakes, spring onions, cucumber & hoi sin sauce
£17.50
Crispy Aromatic Duck Quarter
Served with pancakes, spring onions, cucumber & hoi sin sauce
£9.50
Crispy Aromatic Duck Half
Served with pancakes, spring onions, cucumber & hoi sin sauce
£17.50
Chips
Suitable for vegetarians
£2.50
Salt & Pepper Chips
Suitable for vegetarians
£2.90
Prawn Crackers
Suitable for vegetarians
£1.90
Curry Sauce
Suitable for vegetarians
£1.80
Sweet & Sour Sauce
Suitable for vegetarians
£1.80
Barbecue Sauce
Suitable for vegetarians
£1.80
Thai Sauce
Suitable for vegetarians
£1.80
Fresh Mixed Vegetable Soup
Suitable for vegetarians
£2.20
King Prawn with Mushrooms
£6.40
King Prawn with Salt, Pepper & Garlic
£6.50
King Prawn with Yellow Bean Sauce
£6.50
King Prawn with Bamboo Shoot & Water Chestnuts
£6.40
Roast Duck with Pineapple
£6.60
Roast Duck with Chinese Mushrooms
£6.60
Roast Duck in Lemon Sauce
£6.60
Roast Duck in Barbecue Sauce
£6.60
Roast Duck with Mushrooms
£6.60
Roast Pork with Mushrooms
£5.50
Roast Pork with Barbecue Sauce
£5.50
Chicken in Yellow Bean Sauce
£5.60
Crispy Shredded Chicken with Chilli
£5.60
Chicken with Bean Sprouts
£5.50
Chicken with Salt, Pepper & Garlic
£5.60
Chicken with Chinese Mushrooms
£5.50
Chicken with Baby Sweetcorn
£5.50
Chicken with Bamboo Shoot & Water Chestnuts
£5.50
Crispy Shredded Beef with Chilli
£5.60
Beef in Yellow Bean Sauce
£5.60
Beef with Bamboo Shoot & Water Chestnuts
£5.50
Rice Mixed Vegetables (V)
£4.00
Egg Fried Rice Small
Suitable for vegetarians
£2.70
Egg Fried Rice Regular
Suitable for vegetarians
£3.10
House Special with Fried Rice
£6.40
Chow Mein Mixed Vegetables (V)
£4.20
Rice Noodle Mixed Vegetables (V)
£4.20
Crispy Noodle Mixed Vegetables (V)
£4.40
Crispy Noodle House Special
£6.40
Curry Mixed Vegetables (V)
£4.00
Cashew Nut Mixed Vegetables (V)
£4.40
Oyster Sauce Mixed Vegetables (V)
£4.20
Oyster Sauce House Special
£6.20
Chop Suey Mixed Vegetables (V)
£4.20
Black Bean Sauce Mixed Vegetables (V)
£4.20
Black Bean Sauce House Special
£6.20
Black Bean Sauce King Prawn
£6.40
Szechuan Style Mixed Vegetables (V)
£4.20
Szechuan Style House Special
£6.20
Szechuan Style King Prawn
£6.40
Black Pepper Sauce Mixed Vegetables (V)
£4.20
Black Pepper Sauce Chicken
£5.50
Black Pepper Sauce House Special
£6.20
Black Pepper Sauce King Prawn
£6.40
Chilli & Garlic Sauce Mixed Vegetables (V)
£4.20
Chilli & Garlic Sauce Beef
£5.50
Chilli & Garlic Sauce Chicken
£5.50
Chilli & Garlic Sauce Pork
£5.50
Chilli & Garlic Sauce Squid
£5.60
Chilli & Garlic Sauce House Special
£6.20
Chilli & Garlic Sauce King Prawn
£6.40
Chilli & Garlic Sauce Duck
£6.60
Satay Sauce Mixed Vegetables (V)
£4.20
Satay Sauce House Special
£6.20
Kung Po Mixed Vegetables (V)
£4.20
Sweet Chilli Mixed Vegetables (V)
£4.20
Sweet Chilli House Special
£6.20
Sweet & Sour in Crispy Batter Chicken Balls
Served with sweet & sour sauce
£5.50
Sweet & Sour in Crispy Batter Pork Balls
Served with sweet & sour sauce
£5.50
Sweet & Sour in Crispy Batter Mixed Balls
Served with sweet & sour sauce
£6.20
Sweet & Sour in Crispy Batter King Prawn Balls
Served with sweet & sour sauce
£6.50
Sweet & Sour Hong Kong Style Mixed Vegetables (V)
With pineapple, onion, carrots & green pepper
£4.20
Sweet & Sour Hong Kong Style Chicken
With pineapple, onion, carrots & green pepper
£5.50
Sweet & Sour Hong Kong Style Pork
With pineapple, onion, carrots & green pepper
£5.50
Sweet & Sour Hong Kong Style King Prawn
With pineapple, onion, carrots & green pepper
£6.50
Sweet & Sour Hong Kong Style Duck
With pineapple, onion, carrots & green pepper
£6.60
Foo Yung Mixed Vegetables (V)
£4.20
Salt & Pepper Potatoes
Suitable for vegetarians
£4.20
Fried Mixed Vegetables
Suitable for vegetarians
£3.50
Fried Onion
Suitable for vegetarians
£2.60
Stir Fried Bamboo Shoot & Water Chestnuts
Suitable for vegetarians
£2.60
Fried Mushrooms
Suitable for vegetarians
£3.30
Fried Bean Sprouts
Suitable for vegetarians
£2.80
Special Omelette with Chips
£5.60
King Prawn Omelette with Chips
£6.50
Chicken Omelette with Chips
£5.50
Mushroom Omelette with Chips
Suitable for vegetarians
£4.70
Plain Omelette with Chips
Suitable for vegetarians
£4.30
Banana Fritter
Suitable for vegetarians
£2.60
Pineapple Fritter
Suitable for vegetarians
£2.60
Apple Fritter
Suitable for vegetarians
£2.60
Thai Red Curry Mixed Vegetables (V)
Thai style, excluding rice OR chips. Cooked with mushrooms, curry spice, onion, green pepper & coconut cream
£4.20
Thai Red Curry Mushrooms (V)
Thai style, excluding rice OR chips. Cooked with mushrooms, curry spice, onion, green pepper & coconut cream
£4.20
Thai Red Curry Beef
Thai style, excluding rice OR chips. Cooked with mushrooms, curry spice, onion, green pepper & coconut cream
£5.60
Thai Red Curry Chicken
Thai style, excluding rice OR chips. Cooked with mushrooms, curry spice, onion, green pepper & coconut cream
£5.60
Thai Red Curry Pork
Thai style, excluding rice OR chips. Cooked with mushrooms, curry spice, onion, green pepper & coconut cream
£5.60
Thai Red Curry Squid
Thai style, excluding rice OR chips. Cooked with mushrooms, curry spice, onion, green pepper & coconut cream
£5.60
Thai Red Curry House Special
Thai style, excluding rice OR chips. Cooked with mushrooms, curry spice, onion, green pepper & coconut cream
£6.20
Thai Red Curry King Prawn
Thai style, excluding rice OR chips. Cooked with mushrooms, curry spice, onion, green pepper & coconut cream
£6.50
Thai Red Curry Duck
Thai style, excluding rice OR chips. Cooked with mushrooms, curry spice, onion, green pepper & coconut cream
£6.60
Thai Green Curry Mixed Vegetables (V)
Thai style, excluding rice OR chips. Cooked with mushrooms, curry spice, onion, green pepper & coconut cream
£4.20
Thai Green Curry Mushrooms (V)
Thai style, excluding rice OR chips. Cooked with mushrooms, curry spice, onion, green pepper & coconut cream
£4.20
Thai Green Curry Beef
Thai style, excluding rice OR chips. Cooked with mushrooms, curry spice, onion, green pepper & coconut cream
£5.60
Thai Green Curry Chicken
Thai style, excluding rice OR chips. Cooked with mushrooms, curry spice, onion, green pepper & coconut cream
£5.60
Thai Green Curry Pork
Thai style, excluding rice OR chips. Cooked with mushrooms, curry spice, onion, green pepper & coconut cream
£5.60
Thai Green Curry Squid
Thai style, excluding rice OR chips. Cooked with mushrooms, curry spice, onion, green pepper & coconut cream
£5.60
Thai Green Curry House Special
Thai style, excluding rice OR chips. Cooked with mushrooms, curry spice, onion, green pepper & coconut cream
£6.20
Thai Green Curry King Prawn
Thai style, excluding rice OR chips. Cooked with mushrooms, curry spice, onion, green pepper & coconut cream
£6.50
Thai Green Curry Duck
Thai style, excluding rice OR chips. Cooked with mushrooms, curry spice, onion, green pepper & coconut cream
£6.60
Mixed Vegetables with Garlic & Coconut Fried Rice
Suitable for vegetarians
£4.40
Mixed Meats with Garlic & Coconut Fried Rice
£5.30
Garlic & Coconut Fried Rice
Suitable for vegetarians
£3.30
Set Dinner A for 1 Person
Sweet & sour pork balls
Chicken with mixed vegetables
Egg fried rice
£9.50
Set Dinner B for 1 Person
Pancake roll (1)
Beef with cashew nuts
Fried mixed vegetables
Egg fried rice
£11.00
Set Dinner C for 2 Persons
Sesame prawn on toast (8)
Sweet & sour pork Hong Kong style
Beef with mushrooms
Egg fried rice
Chicken chow mein
£19.00
Set Dinner D for 2 Persons
Spare ribs in barbecue sauce (4)
Beef with black bean sauce
Sweet & sour chicken Hong Kong style
Fried mixed vegetables
Yeung chow fried rice
£20.50
Happy Meal For 2 Persons
Deep fried crispy Wonton
Kung po chicken
Beef with Galangal
Fried mixed vegetables
Singapore chow mein
Egg fried rice
£22.00
Happy Meal For 3 Persons
Deep fried crispy Wonton
Kung po chicken
Beef with Galangal
Fried mixed vegetables
Singapore chow mein
Egg fried rice
£30.00
Happy Meal For 4 Persons
Deep fried crispy Wonton
Kung po chicken
Beef with Galangal
Fried mixed vegetables
Singapore chow mein
Egg fried rice
£40.00
Chefs Special For 2 Persons
Crispy aromatic duck
Chicken & sweetcorn soup
Deep fried shredded beef
Fried chicken with black bean & chilli sauce
Stir fried mixed vegetables
Yeung chow fried rice
£27.50
Chefs Special For 3 Persons
Crispy aromatic duck
Chicken & sweetcorn soup
Deep fried shredded beef
Fried chicken with black bean & chilli sauce
Stir fried mixed vegetables
Yeung chow fried rice
£39.00
Chefs Special For 4 Persons
Crispy aromatic duck
Chicken & sweetcorn soup
Deep fried shredded beef
Fried chicken with black bean & chilli sauce
Stir fried mixed vegetables
Yeung chow fried rice
£50.00
Lucky Special For 2 Persons
Crispy Peking duck
Seaweed
Mini vegetarian spring rolls
Honey spare ribs
Chicken with ginger & spring onions
Deep fried sweet & sour chicken balls
Fried beef with black bean & chilli sauce
Fried mixed vegetables
Yeung chow fried rice
£34.00
Lucky Special For 3 Persons
Crispy Peking duck
Seaweed
Mini vegetarian spring rolls
Honey spare ribs
Chicken with ginger & spring onions
Deep fried sweet & sour chicken balls
Fried beef with black bean & chilli sauce
Fried mixed vegetables
Yeung chow fried rice
£47.00
Lucky Special For 4 Persons
Crispy Peking duck
Seaweed
Mini vegetarian spring rolls
Honey spare ribs
Chicken with ginger & spring onions
Deep fried sweet & sour chicken balls
Fried beef with black bean & chilli sauce
Fried mixed vegetables
Yeung chow fried rice
£62.00
Contact Us
Find Us
31 Church Street, Paignton, TQ33AJ
We deliver to
TQ3, TQ4, TQ5