About Us
Honeymoon Restaurant is a Chinese takeaway in Paignton. Why don't you try our Black Pepper Sauce or Satay Sauce?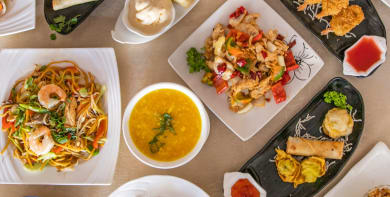 Reviews
266 reviews
Charlotte
"Food was fantastic. I would definitely order again."
25/11/2020
Pawel
"Very tasty food and delivered on time."
24/11/2020
Marie
"Would definitely recommend."
24/11/2020
Kate
"Always hot and delicious, thank you!"
20/11/2020
Menu
Mixed Hors d'Oeuvres for 2 People
£8.00
Vegetarian Spring Rolls (8)
Suitable for vegetarians
£2.50
Onion Rings
Suitable for vegetarians
£2.20
Curry Triangles (Samosa) (8)
£2.20
Deep Fried Crab Claws (6)
£3.60
Chicken Satay on Skewers (4)
£4.90
Honey Barbecued Spare Ribs
£5.80
Barbecued Spare Ribs in Sauce
£5.80
Spare Ribs with Salt, Pepper & Garlic
£5.80
Squid with Salt, Pepper & Garlic
£5.50
Chicken Wings with Salt, Pepper & Garlic
£4.60
Crispy Peking Duck Quarter
Served with pancakes, spring onions, cucumber & hoi sin sauce
£9.50
Crispy Peking Duck Half
Served with pancakes, spring onions, cucumber & hoi sin sauce
£17.50
Crispy Aromatic Duck Quarter
Served with pancakes, spring onions, cucumber & hoi sin sauce
£9.50
Crispy Aromatic Duck Half
Served with pancakes, spring onions, cucumber & hoi sin sauce
£17.50
Chips
Suitable for vegetarians
£2.50
Salt & Pepper Chips
Suitable for vegetarians
£2.90
Prawn Crackers
Suitable for vegetarians
£1.90
Cashew Nut Mixed Vegetables (V)
£4.40
Black Pepper Sauce Chicken
£5.50
Black Pepper Sauce King Prawn
£6.40
Black Pepper Sauce Mixed Vegetables (V)
£4.20
Black Pepper Sauce House Special
£6.20
Crispy Noodle Mixed Vegetables (V)
£4.40
Crispy Noodle House Special
£6.40
Szechuan Style King Prawn
£6.40
Szechuan Style Mixed Vegetables (V)
£4.20
Szechuan Style House Special
£6.20
Kung Po Mixed Vegetables (V)
£4.20
Chilli & Garlic Sauce Chicken
£5.50
Chilli & Garlic Sauce Pork
£5.50
Chilli & Garlic Sauce King Prawn
£6.40
Chilli & Garlic Sauce Mixed Vegetables (V)
£4.20
Chilli & Garlic Sauce Beef
£5.50
Chilli & Garlic Sauce Duck
£6.60
Chilli & Garlic Sauce Squid
£5.60
Chilli & Garlic Sauce House Special
£6.20
Thai Red Curry Chicken
Thai style, excluding rice OR chips. Cooked with mushrooms, curry spice, onion, green pepper & coconut cream
£5.60
Thai Red Curry Pork
Thai style, excluding rice OR chips. Cooked with mushrooms, curry spice, onion, green pepper & coconut cream
£5.60
Thai Red Curry Mixed Vegetables (V)
Thai style, excluding rice OR chips. Cooked with mushrooms, curry spice, onion, green pepper & coconut cream
£4.20
Thai Red Curry Squid
Thai style, excluding rice OR chips. Cooked with mushrooms, curry spice, onion, green pepper & coconut cream
£5.60
Thai Red Curry House Special
Thai style, excluding rice OR chips. Cooked with mushrooms, curry spice, onion, green pepper & coconut cream
£6.20
Thai Red Curry Beef
Thai style, excluding rice OR chips. Cooked with mushrooms, curry spice, onion, green pepper & coconut cream
£5.60
Thai Red Curry Duck
Thai style, excluding rice OR chips. Cooked with mushrooms, curry spice, onion, green pepper & coconut cream
£6.60
Thai Red Curry King Prawn
Thai style, excluding rice OR chips. Cooked with mushrooms, curry spice, onion, green pepper & coconut cream
£6.50
Thai Red Curry Mushrooms (V)
Thai style, excluding rice OR chips. Cooked with mushrooms, curry spice, onion, green pepper & coconut cream
£4.20
Thai Green Curry Chicken
Thai style, excluding rice OR chips. Cooked with mushrooms, curry spice, onion, green pepper & coconut cream
£5.60
Thai Green Curry Pork
Thai style, excluding rice OR chips. Cooked with mushrooms, curry spice, onion, green pepper & coconut cream
£5.60
Thai Green Curry Mixed Vegetables (V)
Thai style, excluding rice OR chips. Cooked with mushrooms, curry spice, onion, green pepper & coconut cream
£4.20
Thai Green Curry Squid
Thai style, excluding rice OR chips. Cooked with mushrooms, curry spice, onion, green pepper & coconut cream
£5.60
Thai Green Curry House Special
Thai style, excluding rice OR chips. Cooked with mushrooms, curry spice, onion, green pepper & coconut cream
£6.20
Thai Green Curry Beef
Thai style, excluding rice OR chips. Cooked with mushrooms, curry spice, onion, green pepper & coconut cream
£5.60
Thai Green Curry Duck
Thai style, excluding rice OR chips. Cooked with mushrooms, curry spice, onion, green pepper & coconut cream
£6.60
Thai Green Curry King Prawn
Thai style, excluding rice OR chips. Cooked with mushrooms, curry spice, onion, green pepper & coconut cream
£6.50
Thai Green Curry Mushrooms (V)
Thai style, excluding rice OR chips. Cooked with mushrooms, curry spice, onion, green pepper & coconut cream
£4.20
Black Bean Sauce King Prawn
£6.40
Black Bean Sauce Mixed Vegetables (V)
£4.20
Black Bean Sauce House Special
£6.20
Mixed Vegetables with Garlic & Coconut Fried Rice
Suitable for vegetarians
£4.40
Mixed Meats with Garlic & Coconut Fried Rice
£5.30
Garlic & Coconut Fried Rice
Suitable for vegetarians
£3.30
Sweet Chilli Mixed Vegetables (V)
£4.20
Sweet Chilli House Special
£6.20
Pineapple Fritter
Suitable for vegetarians
£2.60
Apple Fritter
Suitable for vegetarians
£2.60
Banana Fritter
Suitable for vegetarians
£2.60
Fresh Mixed Vegetable Soup
Suitable for vegetarians
£2.20
Special Omelette with Chips
£5.60
Mushroom Omelette with Chips
Suitable for vegetarians
£4.70
Plain Omelette with Chips
Suitable for vegetarians
£4.30
King Prawn Omelette with Chips
£6.50
Chicken Omelette with Chips
£5.50
Roast Duck in Barbecue Sauce
£6.60
Roast Duck in Lemon Sauce
£6.60
Roast Duck with Chinese Mushrooms
£6.60
Roast Duck with Mushrooms
£6.60
Roast Duck with Pineapple
£6.60
Chicken in Yellow Bean Sauce
£5.60
Crispy Shredded Chicken with Chilli
£5.60
Chicken with Bean Sprouts
£5.50
Chicken with Salt, Pepper & Garlic
£5.60
Chicken with Chinese Mushrooms
£5.50
Chicken with Baby Sweetcorn
£5.50
Chicken with Bamboo Shoot & Water Chestnuts
£5.50
Crispy Shredded Beef with Chilli
£5.60
Beef in Yellow Bean Sauce
£5.60
Beef with Bamboo Shoot & Water Chestnuts
£5.50
Roast Pork with Barbecue Sauce
£5.50
Roast Pork with Mushrooms
£5.50
Chop Suey Mixed Vegetables (V)
£4.20
Salt & Pepper Potatoes
Suitable for vegetarians
£4.20
Fried Mixed Vegetables
Suitable for vegetarians
£3.50
Fried Onion
Suitable for vegetarians
£2.60
Stir Fried Bamboo Shoot & Water Chestnuts
Suitable for vegetarians
£2.60
Fried Mushrooms
Suitable for vegetarians
£3.30
Fried Bean Sprouts
Suitable for vegetarians
£2.80
Chow Mein Mixed Vegetables (V)
£4.20
King Prawn with Mushrooms
£6.40
King Prawn with Salt, Pepper & Garlic
£6.50
King Prawn with Yellow Bean Sauce
£6.50
King Prawn with Bamboo Shoot & Water Chestnuts
£6.40
Satay Sauce Mixed Vegetables (V)
£4.20
Satay Sauce House Special
£6.20
Rice Noodle Mixed Vegetables (V)
£4.20
Rice Mixed Vegetables (V)
£4.00
Egg Fried Rice Regular
Suitable for vegetarians
£3.10
Egg Fried Rice Small
Suitable for vegetarians
£2.70
House Special with Fried Rice
£6.40
Oyster Sauce Mixed Vegetables (V)
£4.20
Oyster Sauce House Special
£6.20
Sweet & Sour in Crispy Batter Chicken Balls
Served with sweet & sour sauce
£5.50
Sweet & Sour in Crispy Batter King Prawn Balls
Served with sweet & sour sauce
£6.50
Sweet & Sour in Crispy Batter Pork Balls
Served with sweet & sour sauce
£5.50
Sweet & Sour in Crispy Batter Mixed Balls
Served with sweet & sour sauce
£6.20
Sweet & Sour Hong Kong Style Chicken
With pineapple, onion, carrots & green pepper
£5.50
Sweet & Sour Hong Kong Style Duck
With pineapple, onion, carrots & green pepper
£6.60
Sweet & Sour Hong Kong Style Mixed Vegetables (V)
With pineapple, onion, carrots & green pepper
£4.20
Sweet & Sour Hong Kong Style Pork
With pineapple, onion, carrots & green pepper
£5.50
Sweet & Sour Hong Kong Style King Prawn
With pineapple, onion, carrots & green pepper
£6.50
Foo Yung Mixed Vegetables (V)
£4.20
Set Dinner A for 1 Person
Sweet & sour pork balls
Chicken with mixed vegetables
Egg fried rice
£9.50
Set Dinner B for 1 Person
Pancake roll (1)
Beef with cashew nuts
Fried mixed vegetables
Egg fried rice
£11.00
Set Dinner C for 2 Persons
Sesame prawn on toast (8)
Sweet & sour pork Hong Kong style
Beef with mushrooms
Egg fried rice
Chicken chow mein
£19.00
Set Dinner D for 2 Persons
Spare ribs in barbecue sauce (4)
Beef with black bean sauce
Sweet & sour chicken Hong Kong style
Fried mixed vegetables
Yeung chow fried rice
£20.50
Happy Meal For 2 Persons
Deep fried crispy Wonton
Kung po chicken
Beef with Galangal
Fried mixed vegetables
Singapore chow mein
Egg fried rice
£22.00
Happy Meal For 3 Persons
Deep fried crispy Wonton
Kung po chicken
Beef with Galangal
Fried mixed vegetables
Singapore chow mein
Egg fried rice
£30.00
Happy Meal For 4 Persons
Deep fried crispy Wonton
Kung po chicken
Beef with Galangal
Fried mixed vegetables
Singapore chow mein
Egg fried rice
£40.00
Chefs Special For 2 Persons
Crispy aromatic duck
Chicken & sweetcorn soup
Deep fried shredded beef
Fried chicken with black bean & chilli sauce
Stir fried mixed vegetables
Yeung chow fried rice
£27.50
Chefs Special For 3 Persons
Crispy aromatic duck
Chicken & sweetcorn soup
Deep fried shredded beef
Fried chicken with black bean & chilli sauce
Stir fried mixed vegetables
Yeung chow fried rice
£39.00
Chefs Special For 4 Persons
Crispy aromatic duck
Chicken & sweetcorn soup
Deep fried shredded beef
Fried chicken with black bean & chilli sauce
Stir fried mixed vegetables
Yeung chow fried rice
£50.00
Lucky Special For 2 Persons
Crispy Peking duck
Seaweed
Mini vegetarian spring rolls
Honey spare ribs
Chicken with ginger & spring onions
Deep fried sweet & sour chicken balls
Fried beef with black bean & chilli sauce
Fried mixed vegetables
Yeung chow fried rice
£34.00
Lucky Special For 3 Persons
Crispy Peking duck
Seaweed
Mini vegetarian spring rolls
Honey spare ribs
Chicken with ginger & spring onions
Deep fried sweet & sour chicken balls
Fried beef with black bean & chilli sauce
Fried mixed vegetables
Yeung chow fried rice
£47.00
Lucky Special For 4 Persons
Crispy Peking duck
Seaweed
Mini vegetarian spring rolls
Honey spare ribs
Chicken with ginger & spring onions
Deep fried sweet & sour chicken balls
Fried beef with black bean & chilli sauce
Fried mixed vegetables
Yeung chow fried rice
£62.00
Curry Sauce
Suitable for vegetarians
£1.80
Sweet & Sour Sauce
Suitable for vegetarians
£1.80
Barbecue Sauce
Suitable for vegetarians
£1.80
Thai Sauce
Suitable for vegetarians
£1.80
Curry Mixed Vegetables (V)
£4.00
Contact Us
Find Us
31 Church Street, Paignton, TQ33AJ
We deliver to
TQ3, TQ4, TQ5